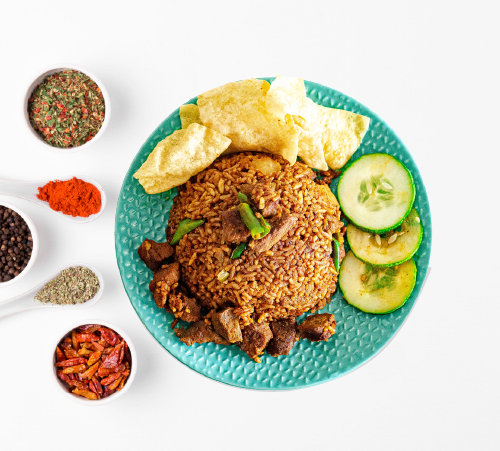 (Set) Set D – Mutton Perattal Fried Rice
Story
Our 'Mutton Perattal Fried Rice' will definitely take you back to a memory of home cooked meals! Fragrant, turmeric-infused, our fried rice is full of healthy veggies. The central dish would be the 'Mutton Perattal', a spicy south Indian (Tamil Nadu) dry style preparation. The mutton is marinated with turmeric & chili powders, griddled with the golden trio of garlic-ginger-onion, and spiced up with cardamom, star anise, cinnamon, curry leaves, and fennel seeds. Together with the fried rice is the perfect combination! Enjoy this set with ONE 'Drink of the Day' & a handful of FREE 'Appalam' for extra goodness.
*Add Ons: extra charge
Pre-order (Set) Set D – Mutton Perattal Fried Rice
Order Tips
Get Free Delivery
---
Get free delivery if you spend min. of RM50 in one delivery! (Same Day, Same Delivery Time)
*Discount will be applied automatically upon check out.