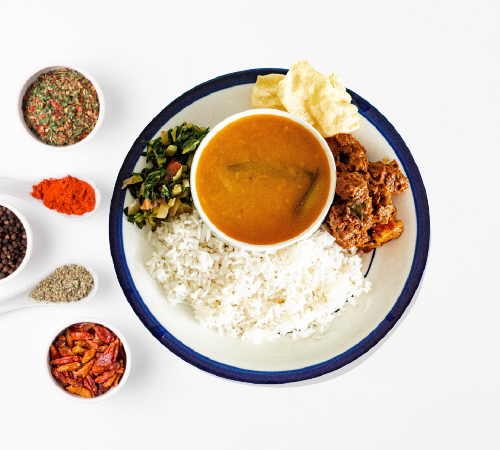 (Set) Set E – Mutton Perattal Mixed Rice
Story
Devour in a taste of delectable mutton! Try out our 'Mutton Perattal Rice' set that comes in a full dish of 'Plain Rice with Sambar' along with the 'Mutton Perattal'. The combination of the two is a spicy south Indian (Tamil Nadu) dry style preparation. The mutton is marinated with turmeric & chili powders, griddled with the golden trio of garlic-ginger-onion, and spiced up with cardamom, star anise, cinnamon, curry leaves, and fennel seeds. You will also get a side of 'Vegetable of the Day' for that extra vitamin! Savor this dish with ONE 'Drink of the Day' & a handful of FREE 'Appalam' upon order.
*Add Ons: extra charge
Pre-order (Set) Set E – Mutton Perattal Mixed Rice
Order Tips
Get Free Delivery
---
Get free delivery if you spend min. of RM50 in one delivery! (Same Day, Same Delivery Time)
*Discount will be applied automatically upon check out.