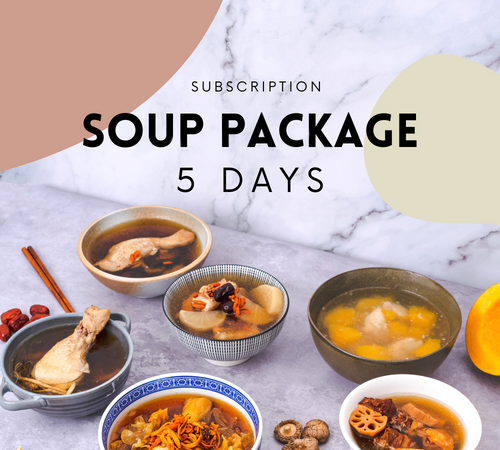 Soup Package (5 Days)
Story
Each meal serve with white rice and random vege.
Soup is the song of home that warms your soul. If you are looking for soups that's packed with nutritious goodness, this package is for you!
This 5 days Subscriptions of Soup Series include several selections of soup: Cordyceps Flower Snow Fungus, White Radish Goji Berry Soup, Siwu Black Bean Soup, Double-Dates Lotus Root Stewed Pork Ribs, Angelica Egg Soup, and Lotus Seed Egg Soup.
With this 5 days Soup Subscriptions Package, you will be getting 1 different soup daily for 5 days with FREE delivery.
*No cutleries provided. Please click "I need cutleries" at checkout page if you need cutleries.
Pre-order Soup Package (5 Days)