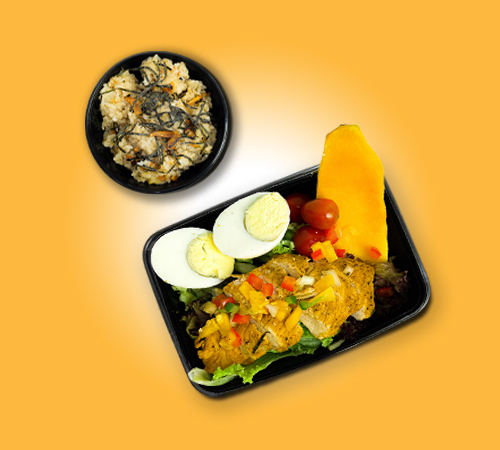 Roasted Spicy Mango Chicken Serve with Mango Salsa and Garlic Rice
Prepared by
Fresh
Brand kitchen powered by Hometaste
Rating
Story
Our mango chicken is a wonderful dish packed with tropical flavors. It's a beautiful combination of sweet, fruity mango with a touch of spice from the bell peppers. Don't be scared of the sweetness because it's actually very mild and well balanced with the garlic fried rice!
Forewarning: These flavors will get you like a roller-coaster!
Nutrition Facts
| | |
| --- | --- |
| Calories |  897.38 kcal |
| Carbohydrates | 127.38  g |
| Protein | 76.40  g |
| Fat | 8.34 g |
Pre-order Roasted Spicy Mango Chicken Serve with Mango Salsa and Garlic Rice
Order Tips
Get Free Delivery
---
Get free delivery if you spend min. of RM50 in one delivery! (Same Day, Same Delivery Time)
*Discount will be applied automatically upon check out.