Khow's Yong Tau Foo
Home-cooked Meals
Promotions
---
15% OFF
Enjoy 15% OFF
Min. spend RM25
Discount capped at RM 4
Period : 2nd May 2022 00:00 until 22nd May 2022 23:59
2 times redemption per user
Daily redemption limit
Valid for all products, individual use only, valid for discount items
Enjoy RM8 Off
Minimum order RM25.
Applicable to all products.
Valid for first-time users only.
Invalid for Sales Items.
About Kitchen
---
| | |
| --- | --- |
| | Khow's Yong Tau Foo |
| | Home-cooked Meals |
| | SS9 |
| | Chinese, Non-halal |
| | $ |
| | |
---
Business Hours
Reviews from customers
---
Alice B

17-Feb-2022

I ordered 6pcs yong tau foo (without chili) but I only get 5pcs ;(

2

Joycetan

15-Feb-2022

Good Bargain. The fried fu chuk super nice. my favourite. Too bad that cant only that.

5

Aileen Ting

14-Jan-2022

I have ordered many times. Love it.

5

Daphne Fong

12-Dec-2021

Nice

5

Daphne Fong

12-Dec-2021

Delicious and similar taste like my mom's recipe

5

LEONG XIN ER

24-Nov-2021

The white rice very white

5

LEONG XIN ER

24-Nov-2021

Nice

5

LEONG XIN ER

24-Nov-2021

GOOD

5

Snow Dove

23-Oct-2021

Nice portion and delicious.

5

Denise Phang

11-Oct-2021

sauce no taste and too little.

3

Leong SooQi

06-May-2021

I loved this type of Yong tau fu. The Hakka Yong tau fu style with fish paste mix with pork. Taste so yummy and reminds me of home, yum yum yum! Definitely will repeat order. Thanks for this wonderful dish!

5

Serena Yeong

21-Jan-2021

It was supposed to come with chili but wasn't included. Is a very small oversight, but also a very important to me because the chili forms part of the taste. I hope the restaurant will double check the order the next time to make sure nothing is left out.

3

Amanda Khoo

27-Jul-2020

The food was not bad, but Im allergic to chillies so I put chef remarks of changing 1 chili to others. And The chef gave me 2 chilies!! It is a double waste for me but anyway pls take note of this details next time. Food is still good so will still reorder. Thanks

3

Wong Ye Lien

08-May-2020

6 pcs Yong Tau Foo (with Chili) - 07 May 2020 (Thu 2nd time order. The 6 pieces tasted fresh and the fish filling was good. Hope the tasty gravy will be increased for the next round. Even though, this is the 2nd order, it just represent that this dish is good and fresh!!!! Therefore it is still the BEST for the 2nd time and for your information, this dish finishes first when it arrives !!!!

5

Sparkle Dust

08-May-2020

Yong Tau Foo and gravy taste fresh and delicious. Portion is just right.

5

Wong Ye Lien

30-Apr-2020

6 pcs Yong Tau Foo (with Chili) Delicious, good and the fillings inside each Yong Tau Foo taste fresh. The gravy is nice but too little. It will be good to supply more gravy with a plastic ware since the price is RM11.50 Overall Good👍👍👍

5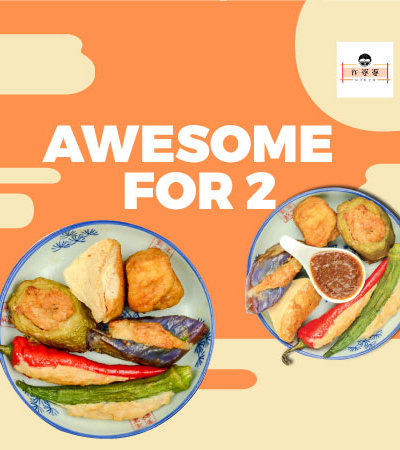 Promo available until 6 Jan 2022 only.