What? Got 18% to 88% off discount is still not HUAT enough? 
We says, huat is NEVER ENOUGH. Say, have you ever heard your Chinese relatives tell you they don't want too much huat? We wish that there's always great deals as we want to save some pocket money after festive season
We don't only want huat, we want HUAT COW COW! Here's the great deals you could grab it at RM2.20 only!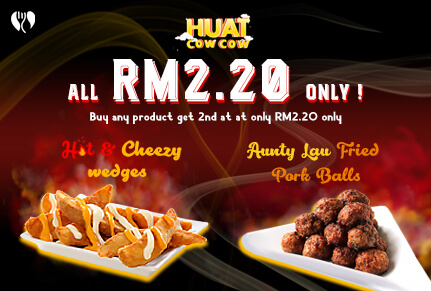 Purchase any meal and you'll get to add on Hot & Cheesy Wedges or Aunty Lau's fried pork balls at ONLY RM2.20! (These both items are originally priced at RM6.90)
Homemade 

Cheap Price 

Eat happily 
We could categorize your main course by western and Asian style, we can even do it the same to the snack categories. 
So, how about adding on them for your meal today?
Terms and Conditions: 
This promotion is valid to both new and existing users. 

Available for all brands at Hometaste website. 

Purchase any item at RM10.90 and get to add on Hot & Cheesy Wedges or Aunty Lau's fried pork ball at RM2.20.

Campaign Date: 8 February 2021 – 28 February 2021

Promotion available for both lunch and dinner sessions. 

Delivery schedule: Monday – Saturday only

Delivery Time :Lunch Session (10:45am-11.45am, 11.45am-12.45pm, 12.45pm – 1:45pm) & Dinner Session (5pm-7.30pm)

Promotion is not exchangeable for cash or replacements.

Hometaste reserves the right to alter, extend or terminate the promotion, or amend the terms and conditions at its sole discretion at any time without prior notice. In case of any disputes directly or indirectly arising from the promotion, the decision of Hometaste shall be final.